BLADE TRILOGY written by joe s.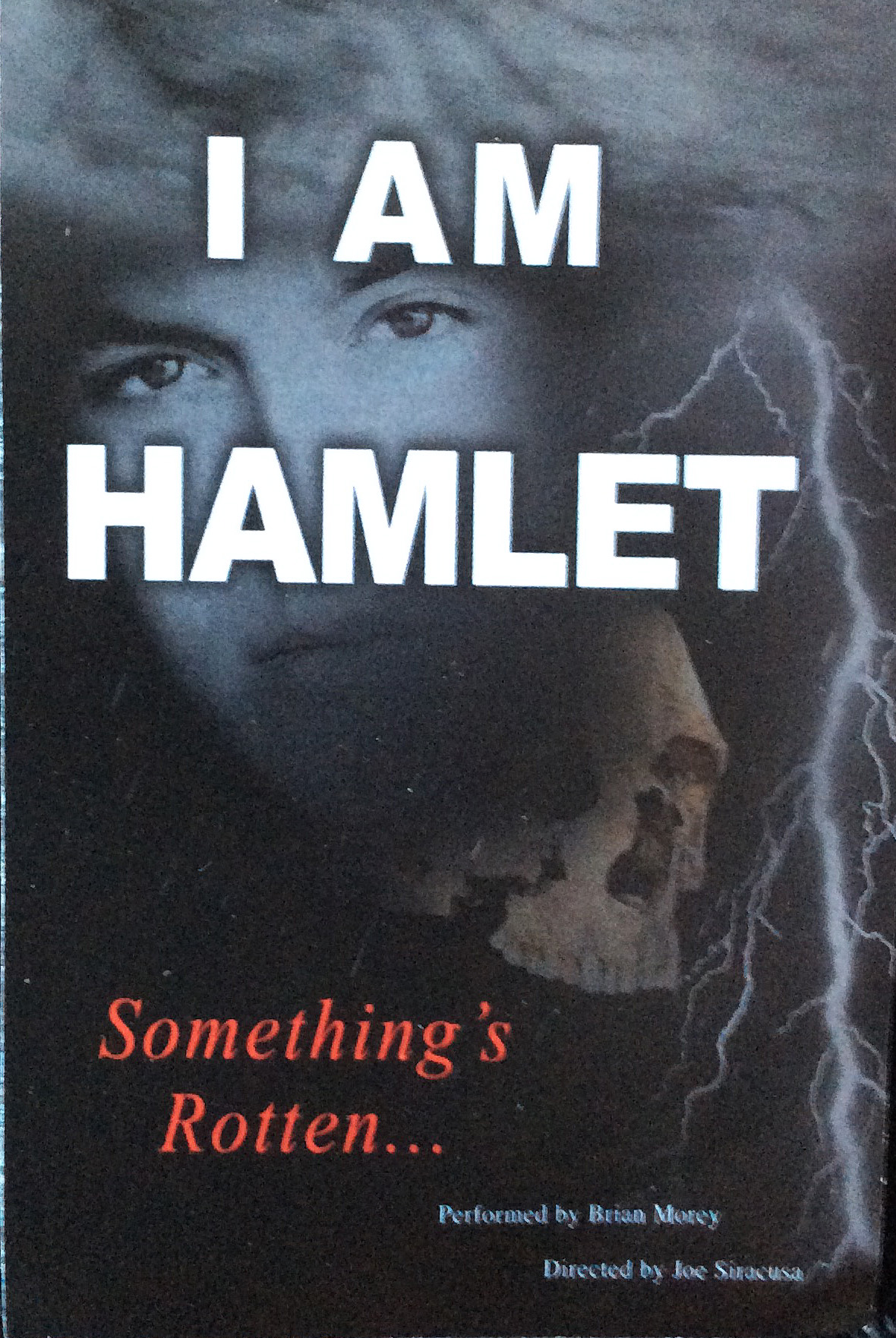 I AM HAMLET
One man Shakespeare adaptation written, directed and produced by joe s.
Over 100 shows at some of the most prestigious theatres in the Northeast.
TARRAGON THEATRE, Toronto, two engagements at the BOSTON CENTER FOR THE ARTS, special performance for P.S. 192 Buffalo Academy for Visual & Performing Arts, Several invitations to play at THE SUBVERSIVE THEATRE COLLECTIVE in Buffalo. Invitation to The Katherine Cornell Theatre in Martha's Vineyard over 50 shows at the Historic Grange Theatre, Martha's Vineyard. Special Halloween show with legendary composer conductor David Amram.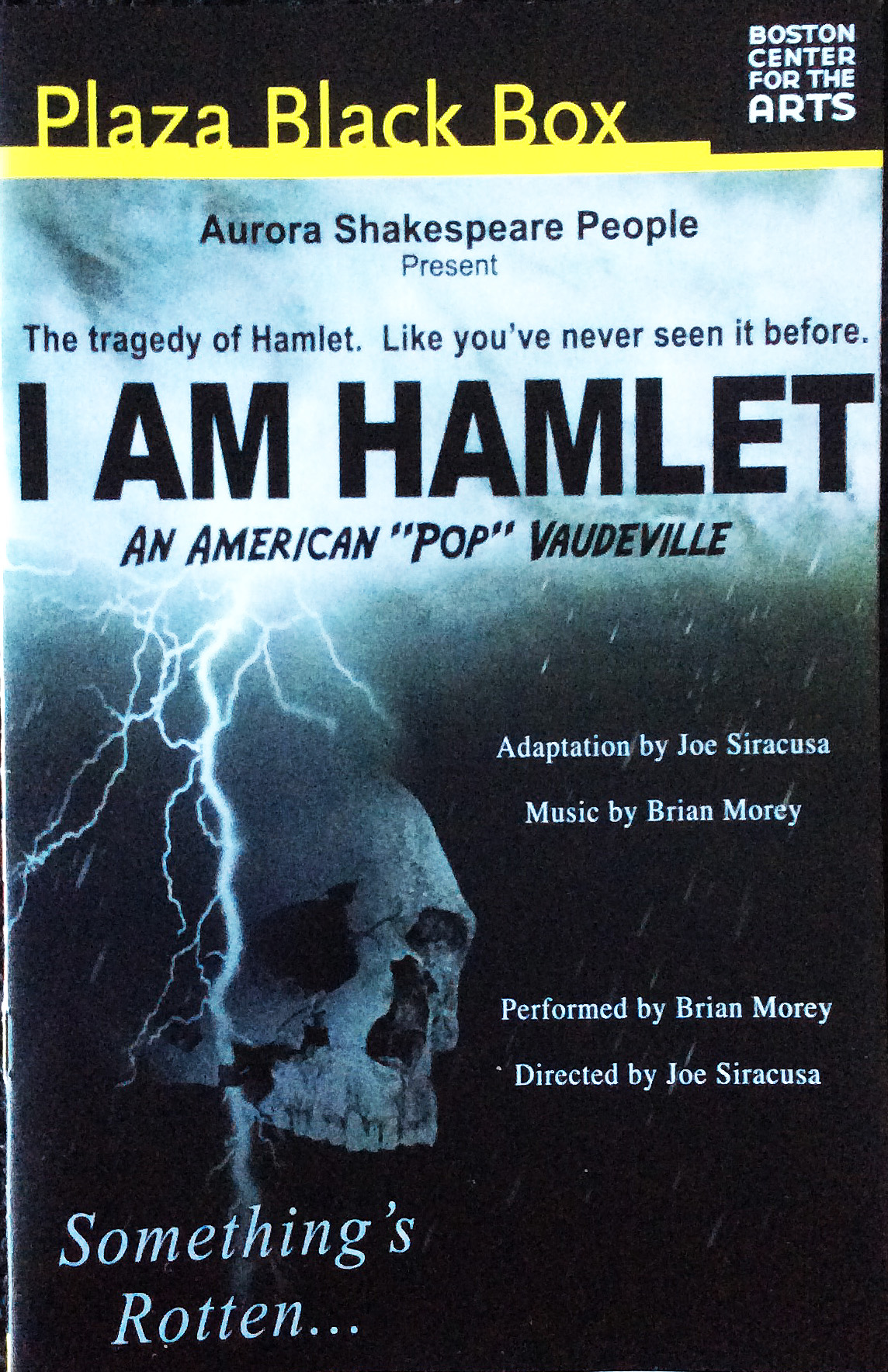 Producer/Director joe s. is honored to have worked with David Amram in Miami, The Finger Lakes, Atlanta and Boston with incredible musicians and The Atlanta Symphony. His love for open air events goes back to the days of THE PHONE BOOTH, his theatre company in Europe. He was also directing and creating with George Isherwood SHEER MADNESS, PAN OPTIKUM Berlin and several other theatre companies in Germany and Holland. These shows have played in over 200 theatre festivals in Holland, Germany, Spain, Italy, Austria and Switzerland.

We named our group THE PHONE BOOTH because we were touring most of the time and had to pull over on the road so joe s. could manage the company business from phone booth to phone booth. We had two vans, a big green Ford for the equipment and props for all our shows in repertory. Then we had a blue Volkswagen Bus for the performers and their belongings. Between PHONE BOOTH and SHEER MADNESS, "Madness", we had people from the U.S., Holland, Germany, Italy, Brazil, Switzerland, South Africa, Spain, Scotland and at then Yugoslavia.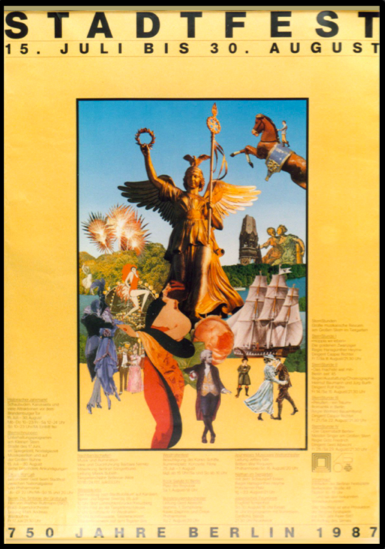 PHONE BOOTH was asked to represent American Culture for the 750 Year Anniversary of Berlin (posters above right and below) and BONN 2000, the anniversary of one of the oldest European cities. It was a great humble honor as it was when my friend, Wouter de Berg (founder, MELKWEG international performing arts center and FESTIVAL OF FOOLS; both prototypes for all of Europe) made ELVIS PRESLEY DAY in Amsterdam for my show ELVIS.

The Freiburg Festival was one of the top in a large festival circuit throughout Europe along with Koln, Frankfurt and Amsterdam's FESTIVAL OF FOOLS. In 1985 I had five shows playing from three different theatre companies. The most any director had in the history of the festival. When I went to see JESSE JAMES the people were overflowing down the steps of the theatre and I couldn't get in. After Europe there were shows all over the U.S. and Canada. In Miami I got into the upper echelon of the fashion world with Charlene Parsons and produced many fashion shows.
GUILLOTINE HEADS WILL ROLL
G2 ELECTION YEAR (winner of best play award Infringement Festival 2012)
G3 GHOSTSHIP CITY SNOWED IN
The (GO SPACE KITTY! The Constitution Kitty) graphics and original images from "truthspaper" are used to build a kitty comic strip that honors the great history, the great speeches and The Constitution of the United States of America. The mission of

truthspaper, Broadcast Journal Syndicate

is to create exciting, meaningful and financially rewarding employment for young people. The focus is education, art, culture, community news and "Live" theatre. The other posters, programs, postcards, flyers, photos and graphics are from a variety of work and shows joe s. has done over decades.
The battle of Good vs Evil. FIRE QUEEN and LUCY LIGHTNING join ROXY ROX to fight for truth, justice and the Kitty Way. Super hero action in SciFi Kitty Thriller. GO SPACE KITTY! The Constitution Kitty.